A Prairie Vernacular/
Un Vernaculaire des Prairies
Folk & Contemporary Art Narratives of Life on the Canadian Prairies/: Les récits d'art populaire et contemporain de la vie dans les Prairies canadienneses
Curators: Jennifer McRorie and Joanne Marion
Commissaires: Jennifer McRorie et Joanne Marion
May 31 - August 31, 2019 / 31 mai – 31 août 2019
Opening: Friday, May 31, 2019 @ 7:30 pm
Artist Panel: Saturday, June 1, 2019 @ 1:00pm
Exhibition organized and circulated by the Moose Jaw Museum & Art Gallery and the Esplanade Arts & Heritage Centre (Medicine Hat, AB), in partnership with the Art Gallery of Swift Current and the Buhler Gallery (Winnipeg, MB). This project has been made possible in part by the Government of Canada, through the Department of Canadian Heritage Museums Assistance Program.
L'exposition est organisée et diffusée par le Musée d'histoire et d'art de Moose Jaw et le centre des arts et du patrimone Esplanade (Medicine Hat, AB), en partenariat avec la galerie de Swift Current et la galerie Buhler (Winnipeg, MB). Ce projet a été rendu possible en partie grâce au gouvernement du Canada, du ministère du Patrimoine canadien, dans le cadre de son Programme d'aide aux musées.
Catherine Blackburn – New Age Warriors
February 1 – May 5, 2019
Opening reception: February 8, 2019 @ 7:30 pm
Artist talk: February 9, 2019 @ 1:00 pm
Reconsidering Abstract Expressionism
From the MJM&AG Permanent Collection
February 1 – April 24, 2019
Frank and Victor Cicansky
Keep on Going
September 13 – December 30, 2018
Opening: September 13 @ 7:30pm
Artist Talk: September 29 @ 1pm
Sponsored by: JGL Group and the Saskatchewan Arts Board, in recognition of its 70th Anniversary.
Harvested
Lobby from September 13 - October 30, 2018
Curated by Gina Fafard and Kimberly Fyfe and organized by the Slate Fine Art Gallery.
Ghosts and Angels
September 13 – December 30, 2018
Opening: September 13 @ 7:30pm
In Conversation Talk with Artist & Gordon Novak: September 13 @ 4:00pm
Sponsored by: Henderson Insurance Inc.
From the MJM&AG Permanent Collection
May 25 - August 26, 2018
Opening: Friday, May 25 @ 7:30pm
Arbor Vitae
May 25 - August 26, 2018
Opening: Friday, May 25 @ 7:30pm
Walk & Talk tour with artist @ 7:45pm
Roadside Attractions
July 1 – September 2, 2018
Opening: Friday, July 27, 2018 @ 7:30pm
Artist talk: Saturday, July 28 @ 1:00pm
Roadside Attractions is a New Chapter Initiative project, funded by the Canada Council for the Arts, and is organized by the Dunlop Art Gallery, Regina Public Library in partnership with Moose Jaw Museum & Art Gallery, Sâkêwêwak First Nations Artists' Collective Inc., AKA Gallery Inc., Art Gallery of Regina, Estevan Art Gallery & Museum, Godfrey Dean Art Gallery Inc., Mann Art Gallery, PAVED Arts, and Allen Sapp Gallery.
Sponsored by: Rockport Carrier Co.
https://www.reginalibrary.ca/dunlop-art-gallery/browse-exhibitions/670190
Canada's Indian Residential School System
Heritage Gallery from April 14 to June 24, 2018
Opening: Wednesday, April 25 @ 7:30pm
Resurrection
February 2 to April 29, 2018
Opening: Friday, February 2 @ 7:30pm
Artist talk: Saturday, April 25 @ 7:00pm
Traces of Beings
February 2 to April 29, 2018
Opening: Friday, February 2 @ 7:30pm
Artist talk: Saturday, February 3 @ 1:00pm
Curated by Joanne Marion; Organized in partnership with the Esplanade Art Gallery, Medicine Hat, AB
Perceptual Playground
September 21 - December 31, 2017
Opening: Thursday, September 21 @ 7:30pm

A Historical Survey of the Visual Arts in Moose Jaw From the MJM&AG Permanent Collection
September 21 - December 31, 2017
Opening: Thursday, September 21 @ 7:30pm
The Face of Saskatchewan's Newcomers
Heritage Gallery from September 21 - December 31 , 2017
Opening: Thursday, September 21 @ 7:30pm
Presented by Common Weal Community Arts
Drift
May 25 - August 27, 2017
Opening: Friday, May 26 @ 7:30pm
Rogue Royal
May 25 - August 27, 2017
Opening: Friday, May 26 @ 7:30pm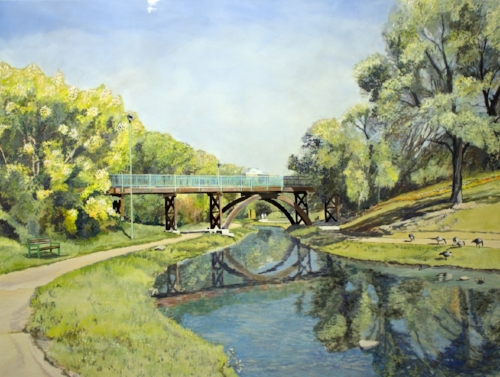 Quiet Stories from Canadian Places - Canada 150
March 3 - May 14, 2017
Opening: Friday, March 3 @ 7:30pm
Artist Talk: Saturday, May 13 @ 1:30pm
The Boom Bits
February 3 - May 7, 2017
Opening: Friday February 10 @ 7:30pm
I Do Not Speak Cree
February 3 - May 7, 2017
Opening: Fri. Feb. 10 @ 7:30pm
Artist Talk: Sat. Feb. 11 @ 1:30pm
Trench Art and Other Canadian War - Related Craft
September 15 - December 31, 2016
The Tablets
September 15 - December 31, 2016
Organized by MJMAG and the Art Gallery of Swift Current; Curated by Jennifer McRorie and Kim Houghtaling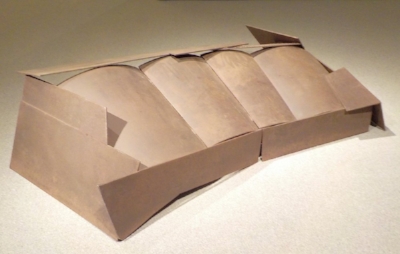 Poetry In Steel
MJM&AG Permanent Collection
September 15 - December 31, 2016
Movies for a Pulsing Earth
April 28 - August 28, 2016
A Natural History of Unnatural Things
April 28 - August 28, 2016
Retailles
January 21 - April 10, 2016
Lucien Durey and Katie Kozak: Baba's House
December 1, 2015 - April 3, 2016
Curated by Blair Fornwald and tour organized by Dunlop Art Gallery
In fall 2012, artists Lucien Durey and Katie Kozak moved to the northern Saskatchewan town of Creighton to take up a self-directed residency in the home of Kozak's Ukrainian-Canadian grandmother, Sophie Ostrowski. During this time, they produced scanned compositions from materials found in Ostrowski's home, producing works with surprising depth and formal restraint. Thoughtful, emotionally resonant, and quietly funny, the resulting collection of works form a loving portrait of this specific individual. Ostrowski's story, however, evokes commonly shared Saskatchewan experiences of rural prairie life and homesteading, the hybridization of second-generation Canadian identities, family history, and intergenerational friendship and exchange.
Featuring Ukrainian-Canadian artifacts from the MJM&AG heritage collection in collaboration with the artworks, this exhibit will connect with Moose Jaw audiences and encourage inquiry into immigrant and pioneering experiences.
Lucien Durey is a visual artist and singer working in Saskatchewan and Vancouver. Drawing from personal and popular experience, his practice explores themes of authenticity and compensation through performance, assemblage/installation, and digital processes. Durey holds a BFA from Emily Carr University of Art and Design and an MFA in Interdisciplinary Studies from Vancouver's SFU School for the Contemporary Arts. He has exhibited in Saskatchewan, Vancouver, Portland and New York.
Katie Kozak is a Creighton, Saskatchewan artist of Métis and Ukrainian descent, whose work is a thoughtful blend of visual art and science. She holds a Bachelor of Science in Biology from the University of Victoria and attended Emily Carr University of Art and Design from 2009 through 2012. She has exhibited artworks in the Prairies and Western Canada.
Heather Benning - A Prairie Gothic: Let Our Fields Be Broader, But Our Nights So Much Darker
September 25, 2015 to January 3, 2016
Saskatchewan artist Heather Benning has a growing international reputation for producing large-scale, site-specific installations within natural environments, presenting interventions in outdoor locations and abandoned and decaying architectural spaces. Another focus of her practice is creating gallery-based installations and, most recently, working in video. It is these latter practices that will be featured in the exhibition A Prairie Gothic: Let Our Fields Be Broader, But Our Nights So Much Darker, co-organized by the Moose Jaw Museum & Art Gallery and the Art Gallery of Swift Current. Presenting four bodies of work and her new film, The Dollhouse, the exhibition offers viewers intricately woven narratives that address notions of place, loss, the perceived 'otherness' of rural life and the construction of gender and femininity. Each series contributes to an overarching narrative of the prairie gothic. Stories of innocence, haunting memories and romantic ideals of settler life on the prairies are intertwined with dark narratives and tragic loss. Benning presents viewers with iconic images and monuments of prairie rural life that not only acknowledge the passing of an era, the loss of a connection to our rural roots, idyllic dreams that are never realized and the inevitability of change, but also reflect a sensitivity and respect for the individual lives and stories, whether real or imagined, that collectively contribute towards a prairie sensibility or even mythology.
The exhibition will tour to the Art Gallery of Swift Current in fall 2016 and the Mann Art Gallery in Prince Albert in 2017.
Hansen-Ross Pottery: Pioneering Fine Craft on the Canadian Prairie
April 30 to September 6, 2015
Folmer Hansen and David Ross considered themselves to be artist craftsmen and took a consciously non-industrial stance, placing considerable emphasis on making beautifully designed, handmade ceramics out of Saskatchewan clay. As always, many factors play a part in the successful realization of any artistic practice or endeavor. In this case, the Saskatchewan Arts Board's focus on adult education and its vision of a professional crafts industry in Saskatchewan helped to develop a wide audience for crafts. In the end, there are two components to the lasting legacy of this studio pottery in small town Saskatchewan. Hansen and Ross produced work on a small scale, primarily as a team of two, but periodically incorporating others, and this had an embracing and encouraging effect on many potters who are still working today. Hansen-Ross Pottery is one of the reasons that ceramics is still such a strong part of Saskatchewan's art history and material culture. The other legacy is their beautiful pottery. There are thousands of finely made pots still sitting on the shelves of numerous kitchen cupboards and adorning china cabinets in Fort Qu'Appelle and far beyond. Increasingly, they are being acquired by art gallery and museum collections, but in Saskatchewan to this day, it is not uncommon to be served a cup of tea or coffee in a Hansen-Ross mug. At times, Hansen-Ross pottery has been honoured with exhibitions, but it is not the recognition that made them a success. It is their beautiful shape, glorious glazes and adept designs that set Hansen-Ross pottery apart from the rest; it is about how they are used or feel in one's hand that makes them Canadian treasures.
Work from 10 Years of Collecting: Selected Works from the Permanent Collection 2004-2014
April 30 to September 6, 2015
Robert Scott - Copper Slag
February 5 to April 12, 2015
Robert Austin Scott, RCA, was born in 1941 in Melfort, Saskatchewan and spent part of his childhood in the town of LaFleche, in south-western Saskatchewan. He studied art at the Alberta College of Art, Calgary, AB, receiving a diploma in Applied Arts in 1969, and an MFA from the University of Alberta, Edmonton, in 1976. He has exhibited extensively throughout Canada and internationally, and has received numerous awards.
The paintings on exhibit here are made using black copper slag (an industrial waste material from a smelting process that is used as an abrasive in the blasting industry) with a bonding medium. The compositions are made by moving the material around dry on a flat canvas and then fixing it with rhoplex medium. Using an array of different implements (garden tools etc.) Scott makes profound compositions where chance is integral to the process.
He lives in Edmonton, AB and travels regularly to a renovated school studio, in Cadillac, Saskatchewan.
Carl Beam - The Columbus Suite
February 5 to April 12, 2015
This exhibition presents the work of well-known Canadian artist Carl Beam. The Columbus Suite is a series of 12 prints that were completed in 1990 in response to the 'celebration' of the 500th anniversary of the European 'discovery' of the Americas. Many people, including those whose ancestors were indigenous to North America, found the celebration ironic and troubling because it represented history as seen from only a European perspective. In these images, Beam uses historic figures such as Christ, Riel, Sitting Bull, Einstein, Lincoln, Kennedy, Columbus, juxtaposed with numerous historical references and symbols, to make art work that represents a contrasting, yet balanced, assembly of heroes from different cultures. As Beam writes, "My works are like little puzzles, interesting little games. I play a game of dreaming ourselves as each other. In this we find out that we're all basically human." Carl Beam was from the M'Chigeeng First Nation and died in 2005.
Gabriela García-Luna, Pensive Space
September 18, 2014 to January 4, 2015
Gabriela García-Luna is a photography-based artist who lives and works between Moose Jaw, SK, northern India and Mexico City, where she was born and raised. She was invited to participate in residencies at the Banff Centre and at La Chambre Blanche in Quebec City. Her work has been featured in numerous solo and group exhibition most recently at SLATE Fine Art Gallery, Regina, at Illingworth Kerr Gallery, Calgary, and in the widely toured exhibition MIND THE GAP!, organized by the Dunlop Art Gallery. Wayne Baerwaldt writes in the catalogue essay that, "As an artist who carefully constructs her photographic pictures to elude definitive and prescriptive readings, Gabriela García-Luna aims to open doors to an aesthetic that questions commonly perceived realities. She suggests we observe her pictures with fewer, different or no expectations of knowing anything with any certainty and that another, more elusive quality is more revealing. In the process of compiling her observations of the commonplace (urban-rural landscapes, ancient buildings, wallpaper, etc.) from various parts of the world, she hints at revealing the unseen in her images. She accomplishes this, in part, by subtly manipulating the quality of light/colouration of her surfaces." This exhibition consists of work from a number of different series that each consist of beautiful, enigmatic images that both mystify and satisfy the viewer.
Mindy Yan Miller, Feed
September 18, 2014 to December 28, 2014
In Mindy Yan Miller's Saskatoon, Saskatchewan studio, the clothing of children, men and women is neatly laid out in a tender patterned order: a child's pair of brightly coloured, wear-softened canvas pants; a man's acrylic sweater with a vibrant geometric design suggesting a little-used Christmas gift and a suit jacket, pressed and kept for best. The clothes, emptied of the bodies that once burnished them, fill the width of translucent industrial netting, a material used by farmers to capture and shape the large round bales that mark the fields of contemporary farmlands in Saskatchewan. Like clothing put away by a mourning relative or set aside for a now-grown child, they are taken "out of circulation," frozen in time, as they are rolled into a bundle resembling both a hay bale and the clothing bundle of the vagabond or refugee, their ontologies fixed by an earlier incarnation.
Excerpt from Essay "Making Hay While the Sun Shines -or The Emperor's New Clothes."
Written by: Lisa Baldissera
Mindy Yan Miller's artistic practice is rooted in fibre traditions and frequently uses masses of potent materials such as used clothing, human hair, or Coke cans. Her installations address themes of labour, identity, loss and commodification. She has exhibited in Canada, Europe and United States and currently lives in Saskatoon, SK. She holds an MFA from the Nova Scotia College of Art & Design and since 1990 she has taught art as a sessional instructor at Concordia University in Montreal.
Les Manning: Common/Opposites
April 24 to August 31, 2014
In a bold departure from the practice which the internationally renowned ceramist developed and refined over the last two decades, the 19 sculptures in Common/Opposites combine Les Manning's expertise and skill as a ceramist with passion and playfulness. Manning's new works show a rich emotional and metaphorical register while drawing deeply upon his personal experiences and knowledge of Canada's lands. Juxtaposing forms, textures and colour, Manning evokes the monumental reach of modernism as an artistic endeavour. Playful references to the humble objects of everyday lighten his sophisticated and contemporary appreciation of the more base aspects of nature, to reveal the rich and contradictory poetry of our ordinary world.
Les Manning was the Director of the Ceramic Studio at the Banff Centre for the Arts for 20 years, and has contributed to ceramics world-wide as a teacher, lecturer, conference and symposium participant and organizer, as well as Vice President of the International Academy of Ceramics, founding member and Vice-President of the Alberta Craft Council and first President of Canadian Craft Council. His work has been shown around the world, and is held in private, corporate and public collections, including the Canadian Museum of Civilization. Les Manning is the Senior Artist in Residence at the Shaw International Centre for Contemporary Ceramics, Medicine Hat Historic Clay District, Alberta, and received the Order of Canada in 2012.
~ Joanne Marion, Director/Curator of Art, Esplanade Arts & Heritage Centre
Carl Beam: From the Collection
January 31 to April 17, 2014
Emerging from Ojibwa and European descent, Beam resisted conventional categorizations of Native Art. Using mixed media, Beam collaged images drawn from Native and non-Native sources. This mode of representation deconstructed cultural assumptions and formulated new interpretations of history. His legacy continues to provoke questions that re-examine traditional mainstream views of Native identity by both Native and non-Native communities.
Alice Macredie: Cherished Memories of a Father's Career
January 31 to April 17, 2014
This exhibition features watercolors by this Moose Jaw-based artist. It is touring nationally by Exporail - the Canadian Railway Museum and features her work painted in memory of her father JRC Macredie, an engineer who help construct bridges such as the Lethbridge Viaduct and the Connaught Tunnel in Rogers Pass.
Maureen Newton: This is for the Birds
January 31 to April 17, 2014
This exhibition highlights new oil paintings that characterize rich coloration, bold compositions, and gently humorous depictions of life's serious - and not so serious - situations. This exhibition was curated by Joanne Marion for the Esplanade Art Gallery in Medicine Hat.